Lightstone
Used to create Advanced Light Spells & Lightstone Sand, which is used to power advanced spells and craft high end armour, can be gathered from Lightstone nodes.
A rare material imbued with the properties of light. Used to craft powerful armor and spells.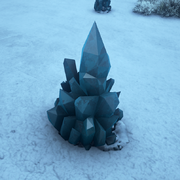 Lightstone nodes are probably the most unique nodes in Dark and Light. They almost look like Quartz crystals.
Lightstone nodes give [X] Lightstone Ore.
Use a Iron Pickaxe or Bahamut to get Lightstone from the node.

Found in high places, under-water and Archos's Lofty Floating Island.
Holy Arrow, Lightstone Shield and IceWind Armor.
Sand created from grinding lightstone. Has light properties useful in spellcrafting and smithing.
Lightstone Sand can be made by grinding Lightstone inside a Mortar and Pestle.